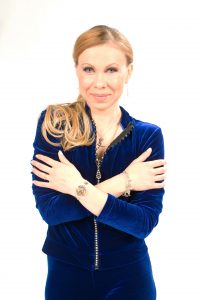 Oksana Baiul® Collection was established by Empress of Ice OKSANA BAIUL® in 2001. A lifelong lover of high fashion and jewelry, upon achieving great professional success Oksana Baiul® was able to indulge and experiment, always with great style.
In 1994, Oksana Baiul® was partnered with GK/VanityFair launching her debut Oksana Baiul® Figure Skating Dress Collections with great success and praise.
In 1996 Oksana Baiul® debuted her massively successful mainstream jewelry collections "Jewels On Ice" and "Ice Crystals", sold in major department stores, boutique jewelry stores and on QVC, incorporating her association with swans mixed with her passion for gem stones, pearls, mixed metals and Austrian crystal to the delight of consumers worldwide who acquired her pieces.
After a two year hiatus, the Oksana Baiul® Collection was established in 2001, a venture wherein Oksana Baiul® designed everything and independently owned, designed, manufactured, distributed and promoted personally her ready to wear, jewelry, accessory and figure skating collections, selling out around the world for four years.
After 15 non-stop years of headliner performances on the ice, acting in television and films, authoring two best selling books, Oksana Baiul® a Global Entertainer who became a household name worldwide upon winning the 1994 Olympics Gold Medal in the most watched Olympics performance in history, decided to take a hiatus and travel the world gathering inspiration while endeavoring on her Philanthropic missions focused on benefits raising millions of dollars for cancer research and disadvantaged / orphaned children.
---

In 2011 Oksana Baiul® began designing again a new Figure Skating Dress collection, Ready To Wear, Jewelry and expanded with a Figure Skating Accessories collection.
The legacy continues of the legendary icon Oksana Baiul® and the OKSANA BAIUL® Collection, the most successful independently owned figure skating collection globally, designed as Oksana Baiul® states "by skater for skater".